News • Eventos
Live, feel and enjoy Plaza Mayor's Summer Festival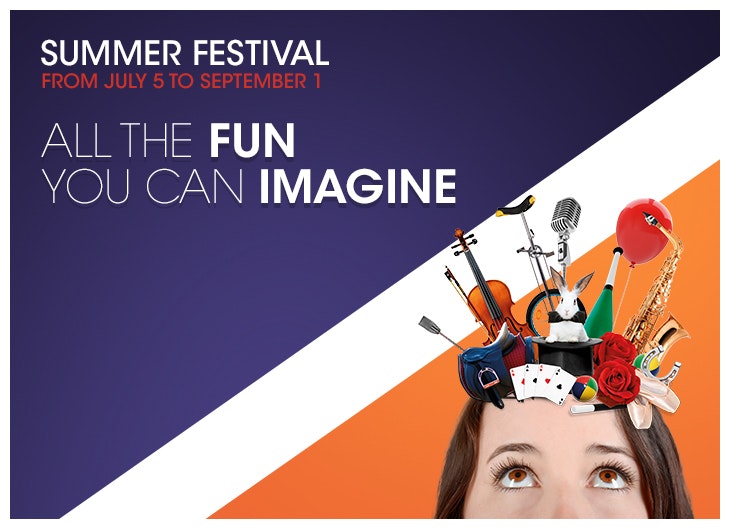 We love summer and what we like the most is enjoying it with you. As another year more, from Plaza Mayor we want you don't miss our exclusive leisure plans. For this reason, we present a complete Summer Festival's program with a great cultural offer for all tastesthat you cannot miss. Discover all the news we have this year at the Summer Festival of Plaza Mayor.
Plaza Mayor Summer Festival 2018
One more year in Plaza Mayor we are prepared to welcome the summer in the best way. The central square of our Shopping Centerdecked out during the months of July and August, becoming a cultural and entertainment space where you can have a great time and enjoy truly amazing performances.
With a huge stage as the protagonist of this space, Plaza Mayor will host a large number of performances of all kinds: music, dance, theatre, magic, games, musicals and more surprises will be present throughout the festival.
Get ready to enjoy a unique experience every week from July 5 to September 1, from Thursday to Saturday from 10pm in Plaza Mayor.
Plaza Mayor Summer Festival 2018 – Program
This year we come back strongly with a program full of great artists, surprises and cultural specialties for all tastes. Each week we can enjoy from Thursday to Saturday of a wide cultural and leisure offer which to spend the summer nights in the best possible way. Pay attention, because here we leave you all the program so that you don't miss any of your favourites performances. Take notes!
From July 12 to 14, we will have the pleasure to receive Dani Cantos and his company, who will delight us with musical performances playing versions of current songs and the classics that we like the most.
From the July 19 to 21 the little ones will be able to enjoy and have fun with the children's musicals. On July 19th we will meet Drilo in "El pirata Barba negra", on July 20 will be the musical of "Alice in Wonderland" and on July 21 we will finish off with the musical "Un viaje de fábula".
In the week of July 26 to 28 we have several surprises, starting with the performance of two of the singers of the well-known programme "Se llama copla" on Friday 26 and completing the weekend with the performance of "Los tres tenores" and the performance of "Bollywood" (pending confirmation).
The month of August starts with the performances of the "Quinteto de la Orquesta Sinfónica de Málaga", during the days 2, 3 and 4 of August. A show in which we have the best violinist in Spain we cannot miss.
From August 9 to 11, we will have the pleasure to welcome on our stage the great Magician G. Alexander, who will make us dream with his magic tricks.
On August 18, we received one more year to "Barbarian" and his body building show.
From August 23 to the 25 we will be able to enjoy the incredible skills of the Circo Contemporáneo, which will surely surprise us with its pirouettes.
On August 31 and September 1 we end this year's Summer Festival with the performances of the "Big Talent" contest in which each of the contestants will be responsible for prove their talent in a cultural specialty. Music, dance, singing and much more.
If you want to be one of the contestants in this contest stay tuned, very soon we will tell you where to register. You can show your best talent in our "Big Talent" pageant!
In addition, don't forget that from June and throughout the summer you can feature our new shuttle service that takes you directly to Plaza Mayor, with which you will be completely careless about the parking problems and with which you will have the convenience to reach directly to the principal door of the Mall.
Don't miss this fantastic date with the culture that is the Summer Festival. Live, feel and enjoy in Plaza Mayor!